Birding Lodge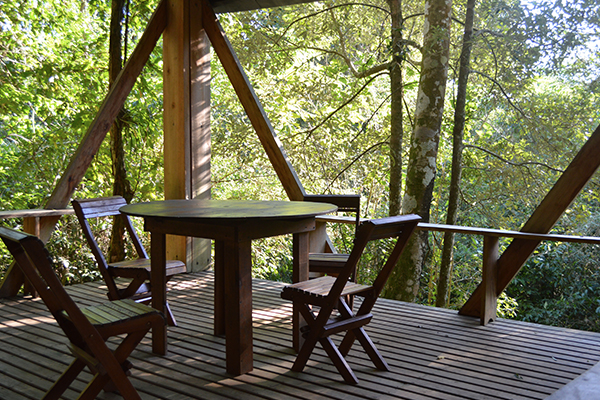 Ypekú cabin
The Ypekú cabin allows you to be close to the main building, but in a very private way. With one bedroom, a small reading room, a balcony and a beautiful terrace, you will be surrounded by primary forest and a fantastic variety of birds.
Ypekú means "woodpecker" in guaraní language, and we have chosen this name because several sepcies like the Blond-crested Woodpecker, Lineated Woodpecker and even the rare Helmeted Woodpecker are usually found in the surrounding area. You will have a preferencial acces to the main building and the bird and hummingbird feeders giving you fanatastic oportunitties for birding and capture exclusive close up with your camera.
Group cabin
El hostel Karadya fue diseñado para alojar a aquellas personas que desean permanecer en la reserva y disfrutar de sus atractivos y actividades de forma más independiente y rustica que en el lodge.
Posee una capacidad de 15 pasajeros, distribuidos en una habitación matrimonial, una triple, una cuádruple y una séxtuple. Cuenta con una cocina de uso común, lavadero, sala de lectura y un comedor externo cubierto. Posee dos áreas de picnic, una de las cuales se encuentra sobre un pequeño arroyo en el que se forma un estanque natural desde donde se puede acceder a toda la red de senderos de la Bio-Reserva.
Streamside cabin
This new and comfortable cabin is located close to a beautiful stream surrounded by and old primary forest with some particular tree species that only grows in this type of habitats. You will also have acces to grasslands, secondary forest and our agroecological plots. With all these type of habitas around, your birding experience will be extremely entretainig.
This former farmer house has been refurnished to a fully equipated cabin, with two berdrooms, kitchen, bathroom and parking área. You will also enjoy the balcony at the stream, where you can relax and wacth stream specialist birds at the same time.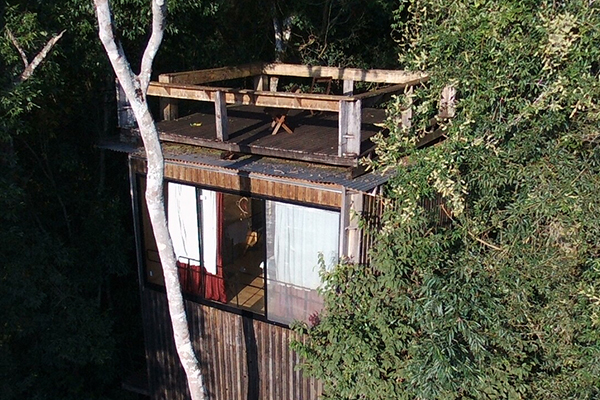 Bird Tower Cabin
The jewel of the lodge is the "Bird Tower Cabin", a four level structure designed to maximize your birding at every strata of the forest, including the possibility to get near the rare birds that inhabits the forest canopy.
The cabin has a "built in" set of nest boxes. During the breeding season, the are usually used by species like the Planalto Woodcreeper (Dendrocolaptes platyrostris), the Buff-browed Foliage-gleaner (Syndactyla rufosuperciliata) and sometimes even by the Black-billed Scythebill (Campylorhamphus falcularius) providing our guests a unique oportunity to share the nesting experience with these birds.